Today was a really cool day. I got to go to the clinic today and it was nice. I shadowed Dr. Evans. She was also really nice. Most of her patients did not show up for their appointment so for the most part, we just talked. She gave me a lot of tips about not stressing over the SAT's as much as I am now. She also told me why she became a doctor. I was supposed to shadow Dr. Naptkilin, however, Dr. Evans was also shadowing him so I mainly followed her. There was a man who had lung cancer and he refused to stop smoking. That makes me so sad, that he doesn't want to improve his quality of life. There was another man who had been through so much but he was so delightful to be around. I would have never been able to tell that he was diagnosed with depression a couple of days ago.
During lunch, we were supposed to sign up for an activity to do for the night. The book store sign up filled up quickly so I decided to sign up for the movie showing of
The Princess Bride.
I really wanted Jasmine to see it too because it is one of my favorite movies and she had never seen it before. The movie was a great as I remembered.

In class, we had a lecture on obesity and malnutrition. I feel as if every time we have a lecture on diabetes or obesity I suddenly feel like I have diabetes. I feel like I over eat everything. For dinner, fried chicken was offered and I could not pass that up. I had a huge piece of fried chicken but opted out of desert. The ironic thing is, right outside the commons room there is this giant quote that makes me not feel bad about how much I ate. After eating Shanti and I engaged in a nice conversation with this guy named Muhammud. He was really nice, he talked about how he was from Houston and that he still doesn't know which college he wants to go to yet.
We took a proctor group photo and this is the result. To be honest, I could not have asked for a better proctor group. We all have different personalities that fit so well and I respect every single one of them and I hope we stay connected when all of this is over.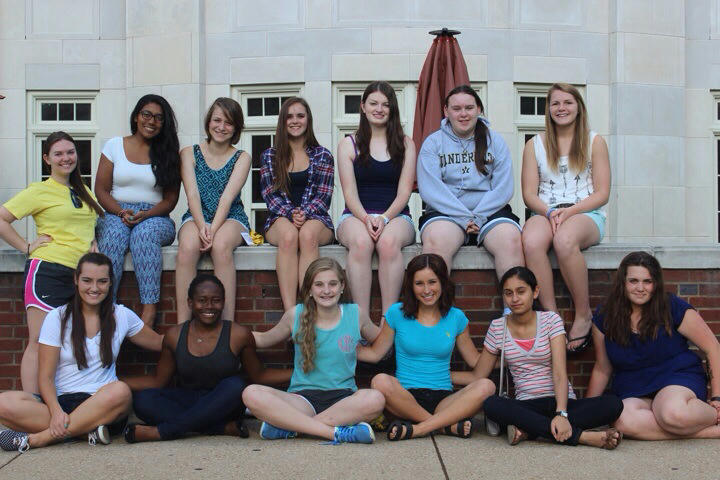 Top left to right: Meg, Shanti, Karina, Chelsea, Emily, Risa, and Abigail
Bottom left to right: Stephanie, Me, Kaitlin, Jill, Jasmine, and Ashley