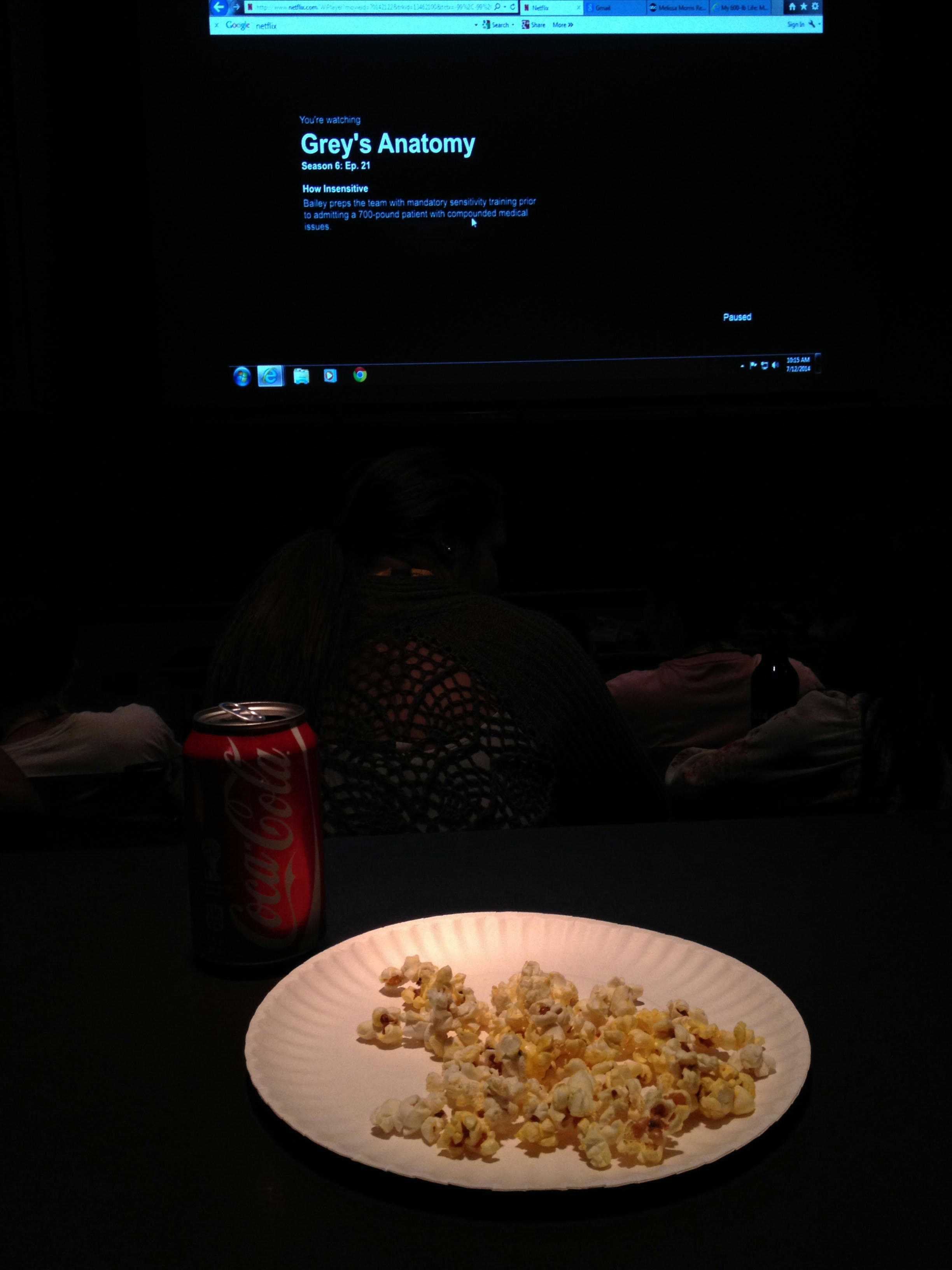 Today was a lot different because it was the start of the weekend. We were allowed to stay in later than usual. I slept until around nine o'clock before I went downstairs for breakfast. I just had some fruit and a breakfast burrito. We made our way to class at around 9:45. Class was really easy today. We watched an episode of Grey's anatomy and were able to ask our teachers about how realistically the show portrayed the medical field. The one thing that was definitely not realistic is how dark the Operating Rooms were in the show. We had popcorn and drinks which was really nice of our teachers. They're all amazing.
After class, we had lunch. We had lunch in the same commons as yesterday so I knew where I was going bit more than before. I had Chicken Alfredo Pasta. It was a bit salty but I still liked it. After lunch Shanti, Carson, Jasmine, and I walked over to this seminar room where a we were going to watch "The Goonies" with a bunch of other people that signed up for it. This was the first time that we've really gotten to talk since we all got here because we've all been busy. The movie was really funny. I sort of fell asleep during the beginning which I don't really understand because I had a good amount of sleep.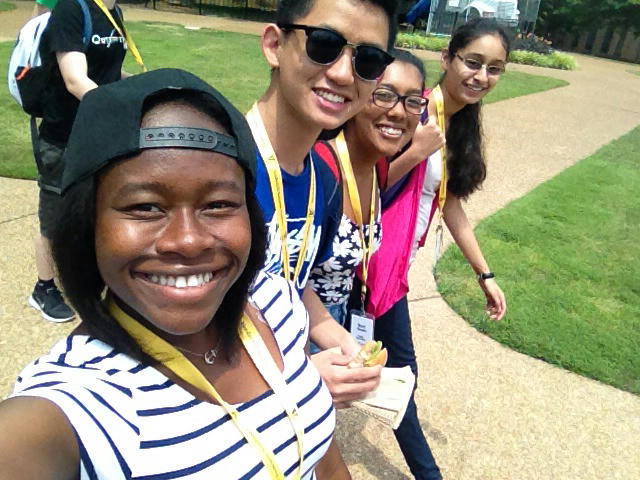 We had another cool S.O.F.T time after the movie. I hung out with Abigail, Stephanie, Shanti, Kaitlin, Jill, Emily, our proctor Meg, and Jasmine! I was really happy that Jasmine decided to hang out with us this time. We went to this cool cafe and after, we all sort of split up. Shanti, Stephanie, Abigail, Jasmine, Emily and I ended up at this comfy Tex-Mex restaurant called Chuy's. They have amazing chips and Dip! We filled ourselves up on their chips. We laughed a lot and it was so nice to hang out with them. We talked about our schools and other things. When I wasn't eating, I was laughing.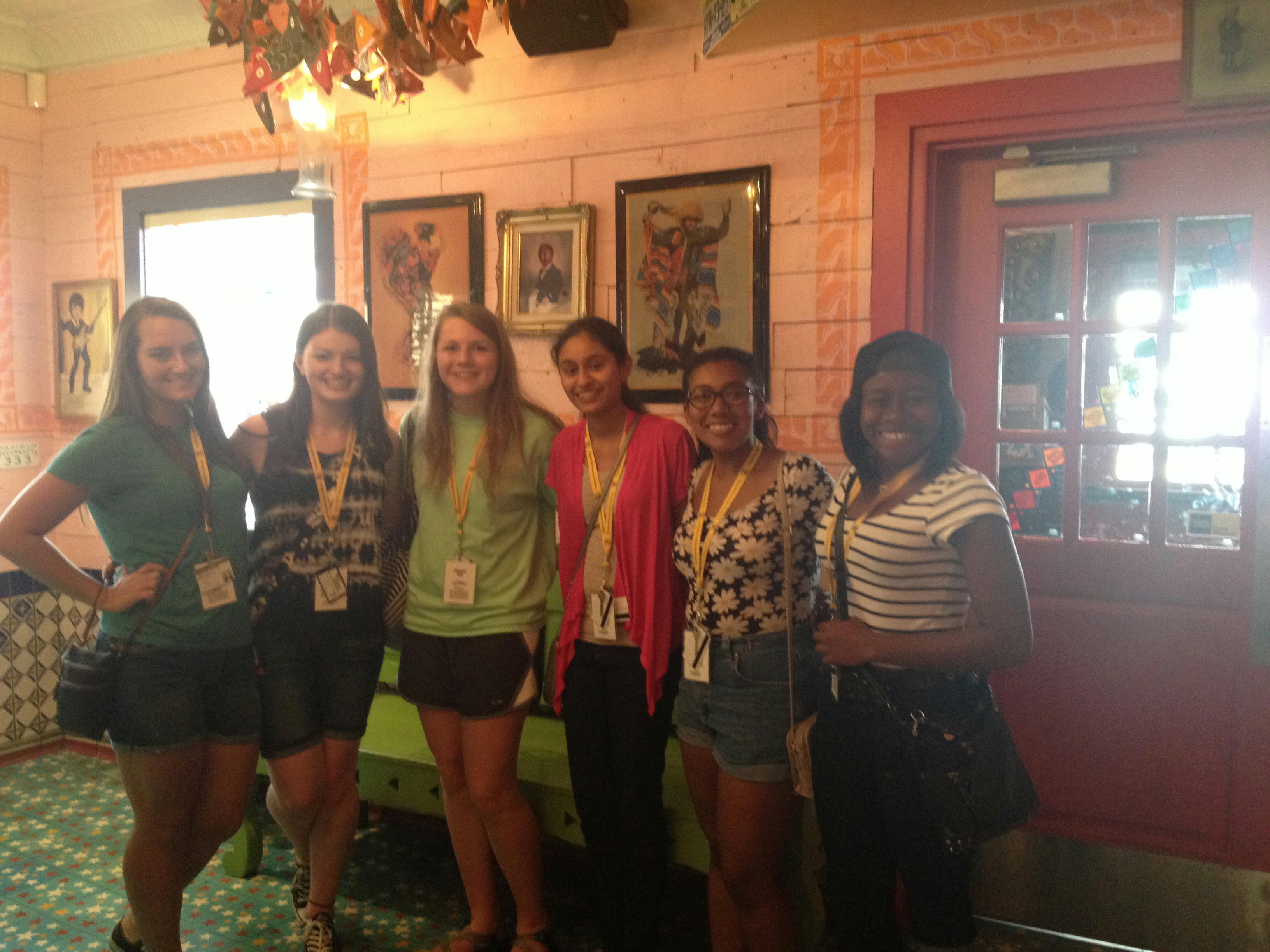 After S.O.F.T, we all boarded buses in order to get to the bowling alley. The group I hung out with didn't really feel like bowling because we felt like we could do that any other time in our home towns. And it was true! I have a bowling alley about 10 minutes away from my house and I feel like I should have fun and do things that I can't usually do in California. We started out with some pizza that was provided for by VSA but we weren't really hungry because we had so much to eat at Chuy's. Our group went straight to laser tag after. I've never played laser tag before so it was hard to get used to it. I couldn't really tell when I had been "shot" and I couldn't tell when I had "shot" someone else. It was fun. After laser tag, we had to wait a little bit for roller skating because there were no more skates in our sizes. After the shoes became available, I was really nervous to skate because I really did not want to fall Jasmine and I were supposed to skate together but she couldn't stand up without falling. It was the same for me but I slowly made my way to the rink. I went around about 3 times before I got tired. I almost fell a couple of times. Shanti and Abigail were professionals at it. Stephanie, Jasmine, and I exited the rink and decided to play bumper cars for a little bit. My car refused to move! It was frustrating, it would only move if someone bumped into me really hard. It was okay. After bumper cars, Jasmine and I decided to go head to head at the arcade. She beat me at air hockey but I got her back during hoops. We earned a couple of tickets and we all decided to get matching bracelets as a group. Here are some of my favorite photos from the bowling alley.
When we got back to Vanderbilt, we went straight to our Proctor Group meeting. We had to share our proctor meeting with another group because their proctor was off that night. The meeting was pretty fast so we were able to leave early. Tomorrow we get to sleep in until 11:45 which is amazing and I am going to take advantage of the extra hours of sleep because I signed up for the Nashville scavenger hunt as an activity for tomorrow.