Having only about two hours of sleep is rough and stressful. We had to meet in our hotel lobby by 5:45 AM. Which meant that we had to be up earlier than that in order to pack our luggage. We were all tired as we entered the cab that was going to take us to the New York Penn station. When we did arrive at the Penn station, it was cool to take everything in because I've never ridden a train before, let alone been in a train station. We finally boarded the train and headed towards Pennsylvania.
I was really looking forward to unwind at the hotel but it was a bit disheartening when Mr. Mannix told us that we wouldn't have time to do anything other than check in, eat, then leave, and that's exactly what we did. We checked in our luggage and headed to the hotel's breakfast bar. I had waffles with a side of strawberries which was very filling. A couple minutes after we finished eating, we headed down to the University of Pennsylvania for our tour and information session. Unlike Columbia, the tour came first. I was able to talk to our tour guide, Claire, and I asked her about what other extra curricular activities that the University offered. She talked about the parliamentary debate team; this interested me because I am president of my schools debate team. Another team that sounded really educational and fun was the squirrel watching club. There no denying the fact that there was a club for everyone.
After the tour, we had a couple of minutes to take some group photos around campus. These are a couple of my favorites. As you can see, we've bonded a lot as a group for only knowing each other for a couple of months.
You can't sit with us
Ben joined our book club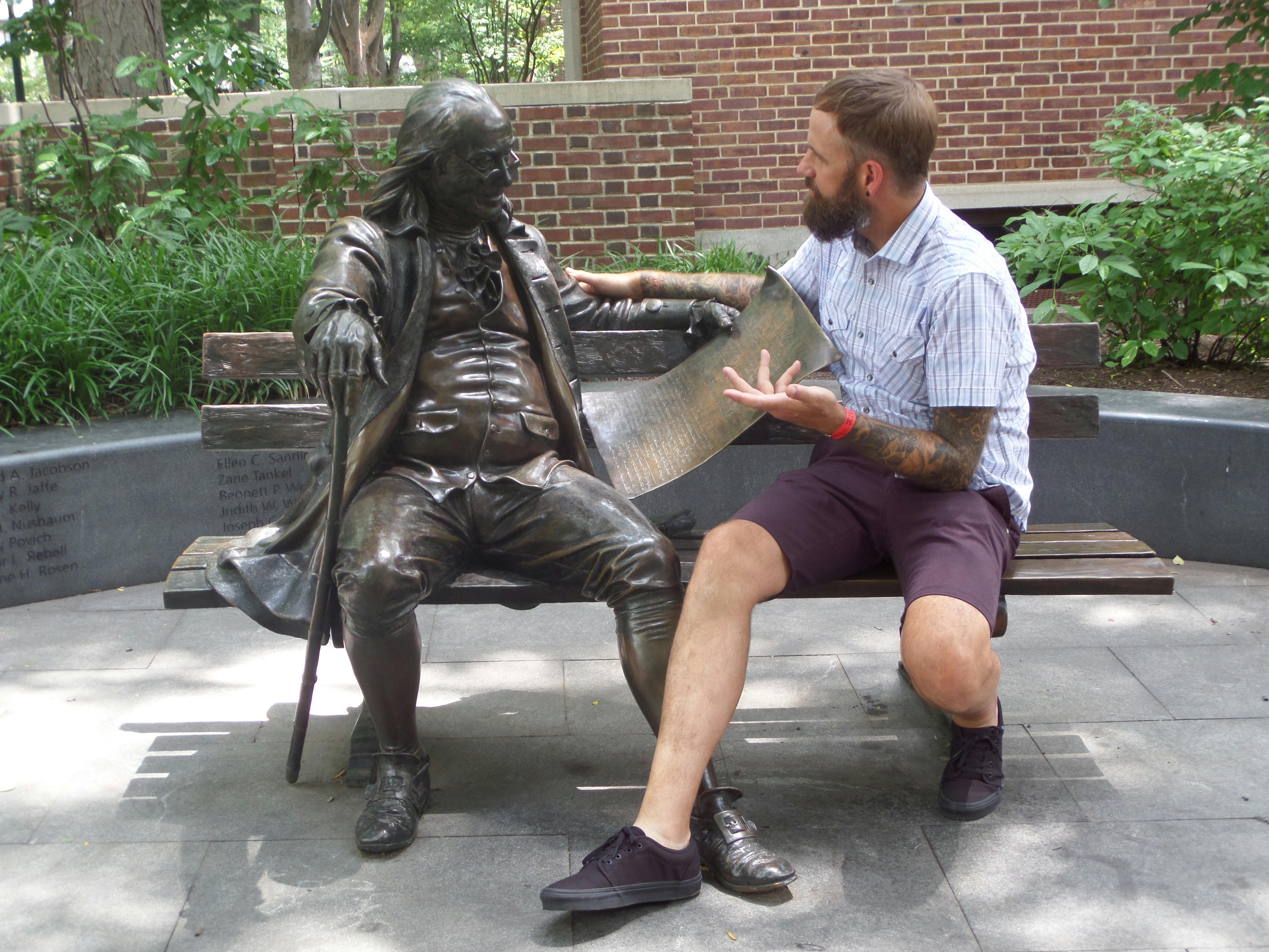 Mr. Mannix having a one sided conversation with Ben
During the information session, I learned many cool facts about the University of Pennsylvania. Engineers at the University actually invented the 2 liter bottle for soda. That was a very cool thing to learn that a University that I've never been to, played such huge role in my life. There were many similarities that I identified between University of Pennsylvania and Columbia, for example both Universities had some required classes for their students, also strong Study abroad programs. I'm really passionate about studying abroad someday so this definitely interested me.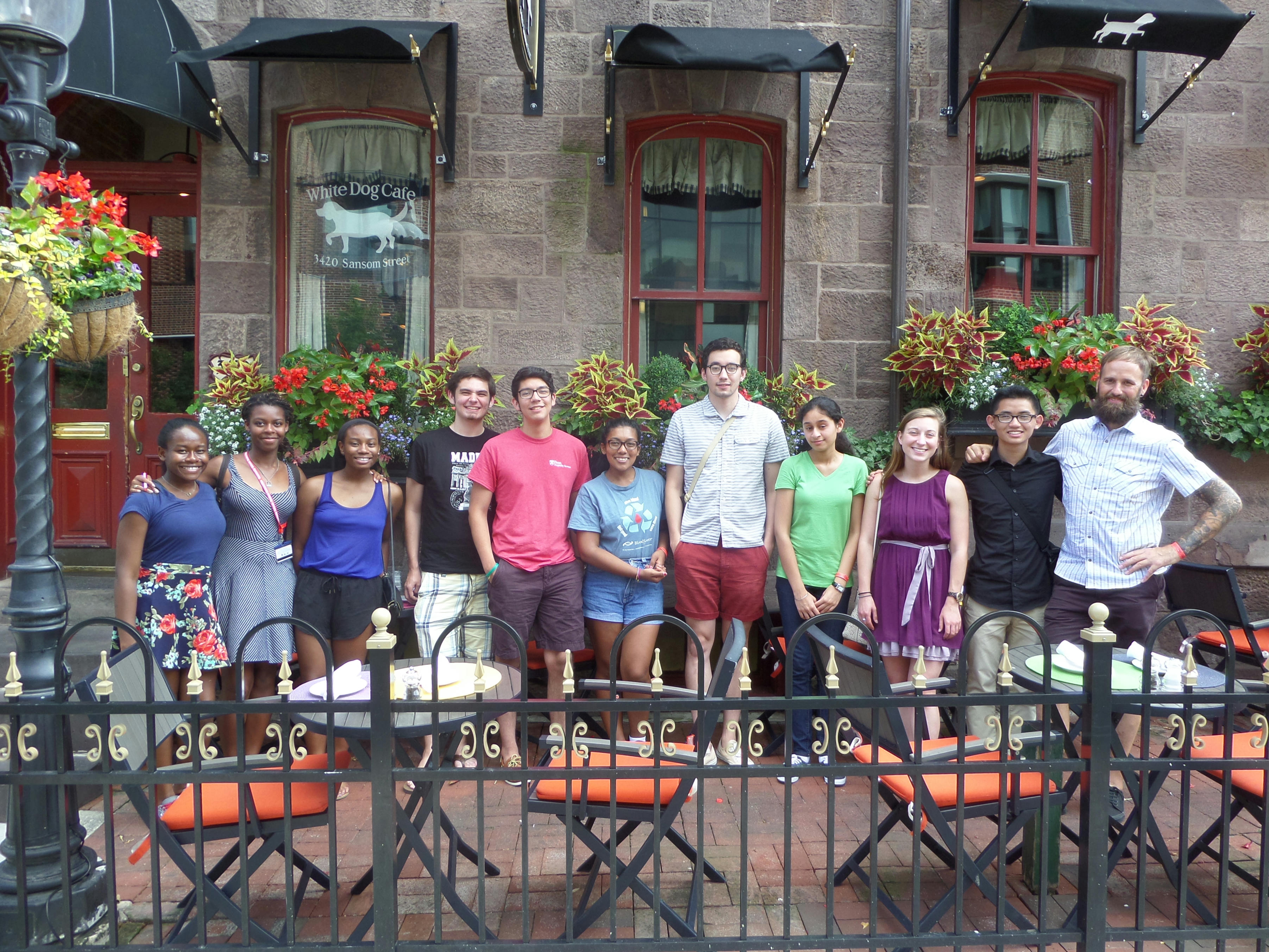 Almost right after the Information Session, we headed over to The White Dog Cafe. It was a short walking distance which I was very grateful for. We luckily arrived before they stopped serving lunch. I had the Spicy Lamb Bolognese. I also sat with three very interesting students from the University. Olivia, Julian, and Giovanni had so much passion about their school which led to a very cool, relaxed conversation throughout lunch. We talked about how they knew that Pennsylvania was the right school for them and how quickly they made friends. I definitely see myself going to an out of state school, so knowing that it was easy for them to make new friends so quickly made me more confident about the idea of starting over. We also talked about the different sororities and fraternities on campus and how they didn't need to necessarily join either one in order to make connections. Speaking to them made me imagine the side of the college that wasn't shown in the tour. They talked about what they loved about the school and they were also able to talk about what they didn't like as much. For example, Julian and Giovanni were both uncomfortable with the fact that some students tend to value their grade over what they learned. I connected with this because it sounded very similar to the environment in my high school. Students tend to think that colleges only see grades, but at the end of the day, you are not your grade and most colleges and all Ivy League schools look at the holistic profile. I enjoyed their company and I was so thrilled to be able to get their contact information.

Overall, I would say that I could see myself going to school in the University of Pennsylvania because I liked the vibe. The students seem to have a sense of pride for their school and I really liked that. I want to go to a school that I would be proud to be a part of.
At around 7 o'clock, Mr. Mannix, Jasmine, Shanti, and I ended our day by having dinner at the Hip City Veg. It was a small, cozy vegan restaurant. I was very excited to try vegan food because I've never had it before. I had the Philly Steak sandwich and green lemonade. The green lemonade was the best lemonade I've had. I wasn't what I expected and it was the best balance of sour. On our way home, we were able to witness a thunderstorm. It made the best view. Even though Carson wasn't able to join us, Mr. Mannix brought him back a sandwich. I thought it was the best way to unwind and end our day in Pennsylvania. This is definitely a visit that I'll remember forever.